I got back from London on Saturday and I had such an good time with my sister, my aunty and her boyfriend. Being in London has really made me realise just how much I want to live there in the future. Being in London makes me feel alive -- as cliched as that may seem. I spent four lovely days in London / St. Albans and I can't think of a better way to start off my summer holiday. There's just something about the capital city and the way that everything is on your doorstep, waiting to be explored, that makes it such a special place. I love the endless possibilities that being somewhere new and exciting brings. I can't wait for the future chapters in my life to be written: in a new city, in an actual profession, with new acquaintances (and old too, of course).
I'll be posting more photos from my trip later, but I just wanted to quickly show you my buys that I got whilst I was there.
(Clockwise, starting with top-left)
The Family Way - Tony Parsons (£1.25, Oxfam)
Moleskine sketchbook, finally! (£14.99, Waterstones)
The Unbearable Lightness of Being by Milan Kundera (£1.25, Oxfam)
Amelie DVD (£2, Scope charity shop)
Cream maxi-skirt (£4.50, Portobello Market)
I was so chuffed with these buys, most of them were real bargains and whilst the Moleskine is pretty pricey, I really had been lusting after it for an inordinate amount of time and purchased it with the book vouchers that I won. As for the two books, I've been meaning to read them both so it was such good luck that they happened to be in Oxfam and on offer for buy one get one free! :-) I've seen Amelie before, but didn't own it on DVD so I thought it'd be a good opp. to brush up on my French. Plus, Audrey Tautou is just the perfect, quintessentially gamine, French fille (it means girl). :-) Last of all, the skirt is a silky, cream, sort-of-pleated concoction which can only be described as 'parfait' -- perfect! I sense that I'll be wearing it all summer (and possibly for the rest of my life).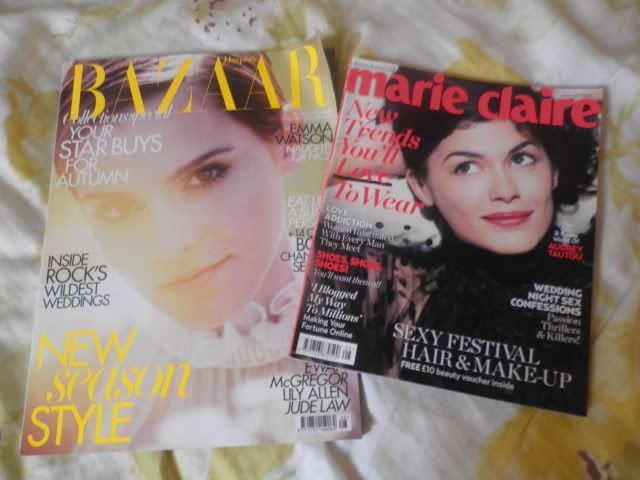 Also, got these two magazines this month: Harper's Bazaar with the beautiful Emma Watson. And another Audrey Tautou appearance, this time on the cover of Marie Claire. Two of my favourite celebrity icons. So beautiful!
Anyway, I'll be sure to come back and inform you of my London adventure soon enough. I hope that your summer / your week is going well. Mine certainly is, currently being filled with: sleeping late, waking up late, drawing, listening to music, eating mindlessly, watching television and... doing very little summer work (which is slowly becoming the bane of my life - surely it should be restricted to term time?!). Still, trying to enjoy these care-free times whilst I can -- hope you are too. Happy blogging.
Chloe xxx