Hello! So I took another little impromptu hiatus from blogging and no doubt I'll be taking another one soon - this time it's premeditated - since it's my last week of lessons tomorrow before I start my exams on Monday 14th May! Needless to say, I'll be way too wrapped up in exams and things to even comprehend the blogging world or tap out any coherent thoughts amidst all the titration calculations, French vocabulary and calculus!

This is merely just a bit of an update for any of you that actually bother to read this blog anymore - apologies again for being such a rubbish blogger!
I finished GCSE Art on Wednesday 18th and it went surprisingly well and I finished well within the 10 hours so I'm really happy with how that went. It's just an amazing feeling to have that over and done with. Finally, I can get round to drawing for FUN as opposed to seeing Art as something to dread.
And like I said, I now have officially one week of compulsory schooling left to get through. It's so strange to think that these 5 years with everyone in my school year are finally coming to an end. I'll see most people next year in Sixth Form, but it's still a really odd thing to get my head around. I mean, I can still remember my first day at secondary school and it seemed like GCSEs were such a long way off. In some ways, my time at secondary school has been achingly slow, yet still fleeting. Like I said - odd.

Seeing as I have ever-increasingly become the hermit that I definitely didn't want to be, I have done very little in the way of social activities, apart from a surprise birthday party for a friend last weekend. Those photos have still yet to make their way from my camera to the laptop, so some old photos will have to suffice. I am definitely one for sentimentalities and nostalgia, so here is a little trip down memory lane - albeit a short one, but a trip nonetheless.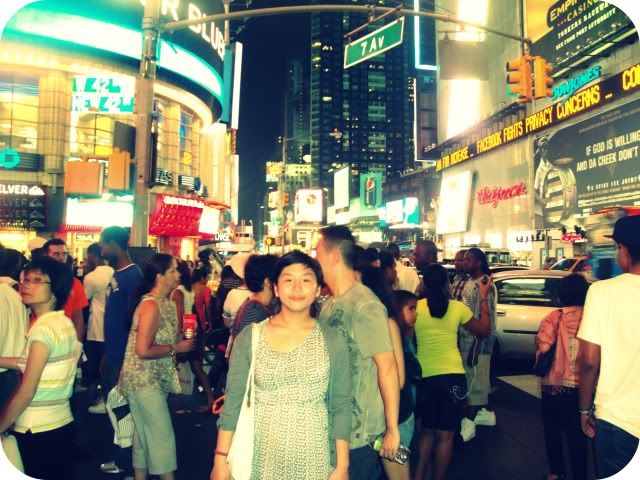 1. Portobello, London, Summer 2011
2. Lanterns in England, March 2011
3. Times Square, NYC, Summer 2010

Looking back at these photos, I have some very, very fond memories which I will always cherish. Thinking about these last five years of secondary school has invariably made me think about how much I've changed since I was in Year 7 and the friendships I've made (and lost) and the places I've seen and everything else that has shaped me into the person that I am today. This seems like such a cliche and I feel so cringey writing all of this now, but it is the honest truth. I am sad to see this chapter of my life ending, but I literally can't wait to see what the future holds for me.
In some ways, this quotation from The Perks of Being a Wallflower seems most fitting:

"So, this is my life. And I want you to know that I am both happy and sad and I'm still trying to figure out how that could be."

I didn't really mean for this post to ramble on as long as it has, but you know, whatever happens, happens. I must try to remember that more in the future. Anyway, I hope that you're all well! I will definitely try and post again sometime soon, but it's difficult to put a time or date on it, so I'll just be purposefully vague and say that I'll blog sometime between now and... July? No doubt I will have an enormous backlog of blogs to catch up on, but it is what it is. Happy blogging - please make up for my lack of blogging whilst I'm gone!

Chloe xxx

P.S. Portugal. The Man is a new favourite. Their song 'People Say' has been on repeat lately.
P.P.S. The new Blogger layout is odd and confusing. I hate change! Anyone else agree?