Hi all! Yesterday, I found out that my school would be closed today due to large snow drifts on the school grounds! (As you can imagine, I seem to have warmed to the snow somewhat due to this unexpected snow day!) So, in order to take advantage of the day off, my sister and I decided to make some rocky road! It isn't technically "baking" since there was no need for an oven and it's really more of an assembly job, but nevertheless, it was an outstanding success (in my humble opinion)! And for anyone who is wary of cooking / baking / making edible food, this recipe really is foolproof. Being someone who isn't very good at following recipes, I, along with my sister, managed to make something pretty damn delicious.
As they say, "the proof is in the pudding", but I'm afraid I'll have to settle with some photographs to show you all.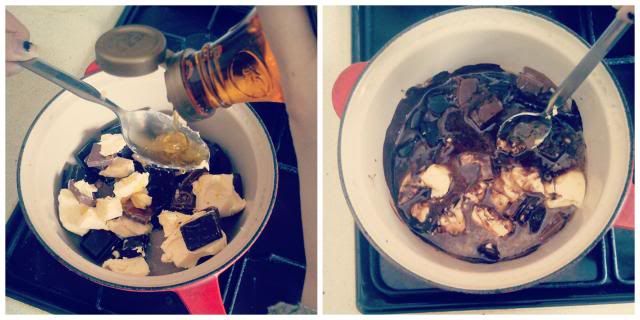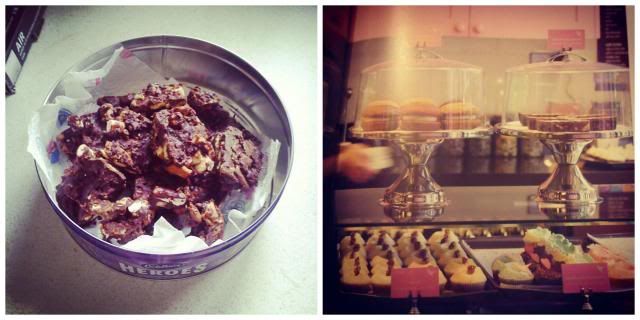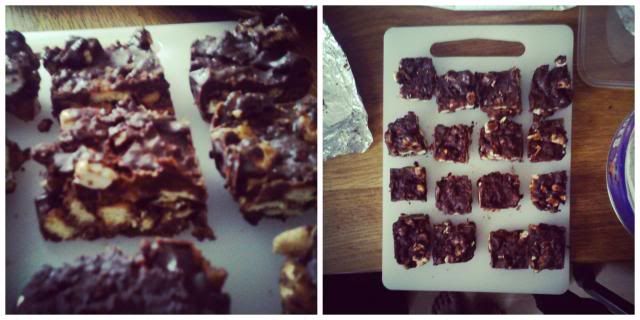 Pictures:
1. Vaguely square-shaped pieces of rocky road
2. L: Bashing rich tea biscuits, R: Weighing out butter
3. L: Weighing out rich tea biscuits, R: Milk & dark choc
4. L: Adding syrup, R: Looks sooooo healthy
5. L: Rocky road to bring in to Latin class!, R: Page from a recipe book
6: Arty shots of our rocky road :-)
If you like the look of these and would like to try this out for yourself, which I would highly recommend, the recipe calls for:
125g soft unsalted butter

300g best-quality dark chocolate
(However, we decided to use an extra 100g and used 200g dark and 200g milk instead as we preferred to reduce the bitterness of the dark chocolate - see what I mean about not being able to follow recipes?!)

3 tbsp golden syrup

200g rich tea biscuits

100g mini marshmallows

2 tsp icing sugar (optional - we didn't use this)
Now for the instructions!
*BTW, my alterations/extra notes are emboldened
Heat the butter, chocolate and golden syrup in a heavy-based saucepan over a gentle heat. Remove from the heat, scoop out about 125ml/4½fl oz of the melted mixture and set aside in a bowl. (I don't have a measuring jug so I just estimated!)

Place the biscuits into a plastic freezer bag and crush them with a rolling pin until some have turned to crumbs but there are still pieces of biscuit remaining.

Fold the biscuit pieces and crumbs into the melted chocolate mixture in the saucepan, then add the marshmallows.

Tip the mixture into a 24cm/9in square baking tin (we just used microwaveable Tupperware boxes lined with foil as they fit into the fridge easier) and smooth the top with a wet spatula (if, like me, you don't own a spatula, just use a knife!)

Pour over the reserved 125ml/4½fl oz of the melted chocolate mixture and smooth the top with a wet spatula.

Refrigerate for about two hours or overnight.

To serve, cut into 24 fingers (or squares or any other shape that you'd like! In my opinion, the bigger the better!) and dust with icing sugar.
Ta-daaaa! There you have it!
Hope you enjoyed this post, I certainly enjoyed making (and eating) these chocolatey treats. Hopefully I'll be making some more treats soon, baking is so much fun! :-)
Hope you're all well and enjoying your week! In spite of the snow, I can't complain too much because I now only have 2 and 1/2 days left until the Easter holidays! Woohoooo :-)
Chloe xxx