It is officially the last day of June! Halfway through 2012 already... Where has the time gone?! It feels like I've completely bypassed the first half of this year, but I'm determined to make the most of the last half!
Anyway, I was back at school on Wednesday for book return. Then on Thursday and Friday, I had my Sixth Form induction where I got to see my friends pretty much for the first time since school finished way back in May as well as meet lots of nice externals (people from other schools). After sort of being stuck in this bubble of seeing the same people at school for the last 5 years, it was so nice making new friends. I also got a taster of my new lessons: Maths, Further Maths, Economics, Chemistry and Latin. It was really fun and I liked the fact that the classes were a lot smaller and also the independence of being in Sixth Form. We had to wear business dress and it was pretty cool not having to wear a uniform anymore. Overall, I had a nice 2 days and am actually really looking forward to school starting in September (although not so much to the amount of summer work I've been set already...)!

Anyway, here are some pics from my Moleskine, as promised!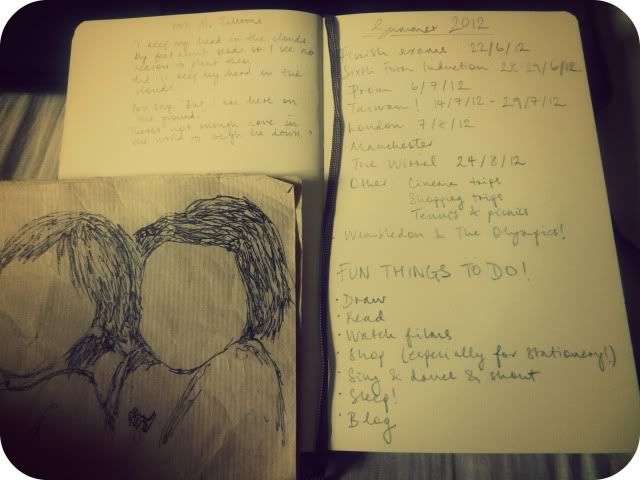 1. Summer 2012 list! Soooo excited!

2. Guillaume Apollinaire & Jonathan Safran Foer quotations

3. Waterstones vouchers, rereading High Fidelity and starting The Help!

4. Quick pen drawing. (Apparently not doing any drawing for a few months has rendered me incapable of drawing faces...)
So I've got an exciting, hectic month ahead of me (hence my making the list)! Prom is in less than a week (on Friday 6th July, I can't waaaiiiit) and then I'll be hanging around with mates before I'm off to Taiwan for 2 weeks on 14th July! I can't wait to head out and have a good time with the family. So exciting!
Anyway, hope you're all well and enjoying the weekend, wherever you are! Happy blogging!
Chloe xxx

P.S. Still obsessed with The Head and The Heart. Most definitely my favourite new band at the moment.