So whilst in Italy, I did get a few things besides food. I mean, I must've spent what, at least 50 Euros on food. We ate through tube after tube of Pringles and drank what felt like ten 2L bottles of Coke/Diet Coke as well as bottles of water, Nestea Iced Tea, Ritz crackers, chocolate chip biscuits, the occassional piece of fruit(!) and not to mention the delicious ice creams!
However, I did not come back with only the gaining of pounds (weight-wise) but also the loss of pounds (or Euros, money-wise) - I did actually buy a few little items.
Without wanting to be totally touristy, I didn't bother buying an I Heart Roma t-shirt. Instead, I got a caricature done of me, in the Piazza Navona, after visiting the Vatican and climbing the Bell Tower and St Peter's. This caricature holds many great memories and I definitely won't forget it in a hurry. It was reasonably priced at a discount of 5 Euros and I love it! (It doesn't look that much like me but caricatures normally don't.)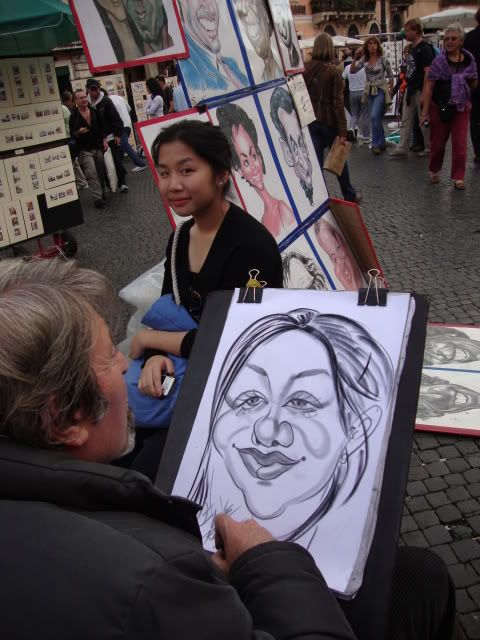 Whilst in Sorrento, we were allowed time in the evenings to roam round and go shopping. Luckily, there was a fantastic leather goods shop in Sorrento, so we were free to check out all the beautiful Italian leather. Not many bags took my fancy and the ones which did were way out of my price range so I stuck to a nice, brown leather belt for 15 Euros, which I thought was a reasonable price for real leather.
Now, the last thing was a completely impromptu purchase at the Bay of Naples airport. We had some time to spare whilst waiting for our plane, so we all went to the gift shop. Looking at the various magazines on offer, I thought it to be a waste to not buy an Italian Vogue! So I did, and with an extra Home magazine with it, 5 Euros wasn't too bad either.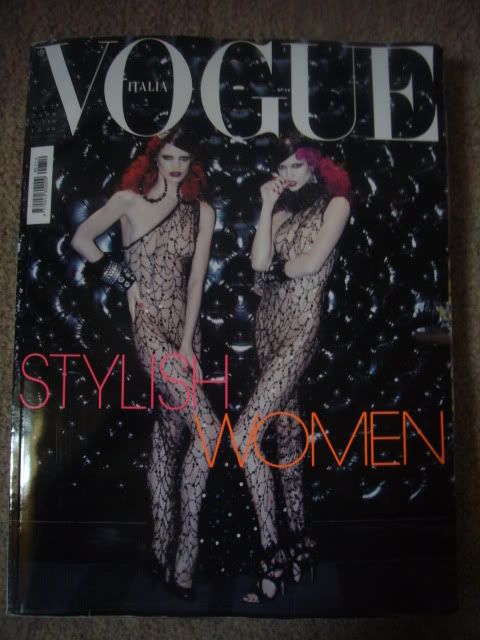 But it's not just these materialistic things that I cherish most from the time I spent in Italy. It was the whole experience of going to a new place, spending time with friends and also spending time on my own. Looking back, the places, the architecture, the art, was all abundantly there, so real, just there. I had such a good time experiencing the culture of Rome. Climbing the Bell Tower, wandering around St Peter's Basilica, the Colosseum, the Trevi Fountain, the Piazza Navona, the Pantheon, the Forum, the Castel Sant Angelo, Pompeii, Bay of Naples, Sorrento, Herculaneum, climbing Vesuvius...

Everything was on such a huge scale that it wasn't hard to feel pallid and insignificant in comparison. So ornate, grandeose and intricate, the difference couldn't be easier to distinguish. I can't describe any of it, really, in words and the whole experience was one of the best I've ever had. I wish I could express it better, but it's probably something that only one can experience. No doubt, I will be getting back to Rome somehow, some way. If any of you are struggling to find some place to get to, I urge all of you to visit Italy (most notably Rome and Pompeii).
If any of you are interested in finding more about Roman architecture and the like, there's a great short TV series of the Grand Tour, hosted by Kevin McCloud (from Grand Designs, which I also love) and he goes around Rome, Pompeii and Herculaneum in two of the episodes: here and here.

With that, a very belated Merry Christmas to all, whether you're here in England, or Rome (if you are, uhh, I'm jealous), America, Hong Kong, Japan, Australia, NZ, Africa, France, Mexico, Germany, Netherlands, Canada, Hawaii, the Gobi Desert, Timbuktu, the Moon... WHEREVER! I wish you all a (belated) Merry Christmas and a Happy New Year; best wishes for 2010 (I almost wrote 2009 then..!)

Also, I've just spent the last few days in London so expect a future post and some nice pictures; I also got a few things and I'll get some pictures of my new buys!

Chloe