I was a very lucky girl this year and received some absolutely lovely presents from my friends this year. Firstly, a few of my friends chipped in to buy me some absolutely lovely Bertie brogues! I've wanted brogues for years and years, but they're pretty expensive, so I'd never actually seen any in my price range that I actually liked. (Russell & Bromley brogues are the dream, but sadly, £165 for a pair of shoes is way out of my price range!) Anyway, I found these brogues on the Dune website and couldn't be happier with them - I love them so much! Next up, as mentioned in a previous post, I received a gorgeous brown leather satchel from The Leather Satchel Company, as well as a very handy and snazzy Google Nexus 7. I absolutely love these items and they make me feel every so sophisticated - definitely taking them all to uni with me next year. Along with these, I got some clothes which aren't pictured, as they're already tucked away in my wardrobe, but I received some stuff from Asos! Then I got a lovely crystal rock ornament, which is really pretty and will decorate my desk nicely! Along with this, some of my favourite stationery (Papermate pencils and WHSmith squared paper haha) and a perfect, personalised notebook. And last but not least, from quite a few friends, I asked for money as I'm still trying hard to save up for a DSLR camera! I'm almost halfway there, so fingers crossed I can save up enough to get one before the summer holidays! Thanks to those who gave any suggestions/opinions on my last post :-)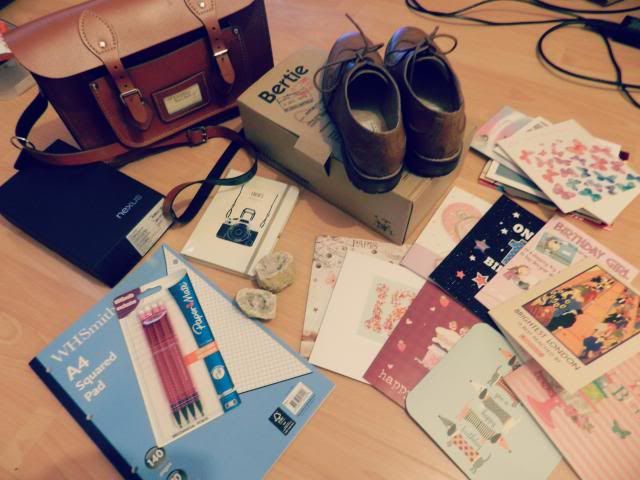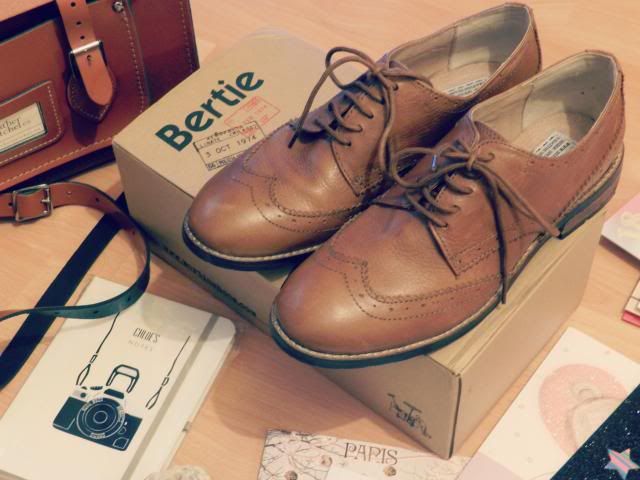 ^^^ I can't help but stare at my feet whenever I'm wearing these beautiful Bertie brogues! ^^^
^^^ Some lovely cards. I especially love the London one, which my friend Gabi bought for me because she knows how much I love that city. ^^^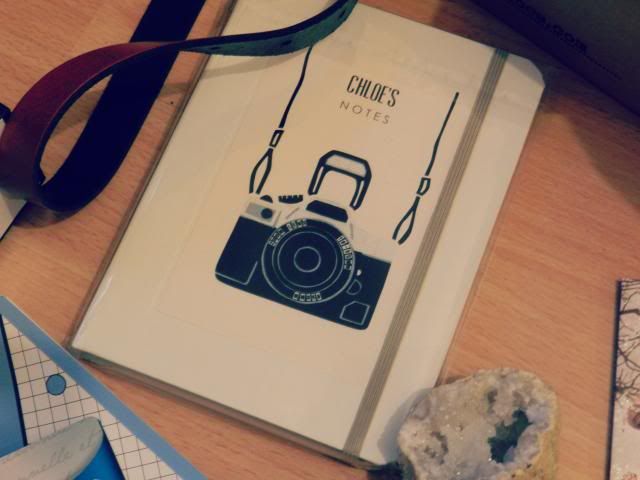 ^^^ Another lovely present from Gabi: this personalised notebook, which is just so lovely and very fitting because she knows that I'm obsessed with cameras. ^^^
It's been a pretty busy around these parts lately. I've been so tired and napped every day this week when I've gotten home from school (it sounds bad, but at least it's only Tuesday)! I feel well and truly exhausted, so this week seriously can't end soon enough. Luckily, I've got a week off for half term next week, so I'm looking forward to well and truly catching up on my sleep, on school work and revision and hopefully with friends. Also, I'm actually heading to Cardiff for the day next Monday as my sister has an interview on Tuesday morning, but rather than risking the 5am train to Cardiff, we decided to make a day of it on Monday and stay in a hotel the night before. It will actually be my first ever visit to Wales, so I'm looking forward to it! Fingers crossed that the weather improves!
On that note -- can you believe the weather in the UK lately?! The flooding has been absolutely crazy and I really feel for those who have been affected in the South of England. Luckily, the Midlands has been fine for the most part. I really hope it clears up soon.
Hope you're all well!
Chloe. X