Hello! So the end of school is very nearly here. I leave school tomorrow at lunch time as it's a half day and I can't wait, but at the same time, I really don't want this year to end. This week has been really good though, as well as my weekend. I chilled out on Saturday after the sleepover and then went for ice cream on Sunday with my sister, mum and some friends. I had a Ferrero Rocher sundae and shared some hot chocolate fudge cake and waffles! Then this week, school's finally been winding down due to the end of school. Missed out loads of lesson because of book return and Speech Day rehearsal. It was Speech Day this afternoon and I received my three awards for Form Academic, Maths and French.
I also met Ben Wright, a Political Correspondent for the BBC who was a former pupil at my school and
I received £30 worth of book vouchers in total. Can't wait to raid Waterstones for some great reads for this summer!

Here are some photos of my art and some randoms from this last week:


This is a drawing of my entire form. It's a little hard for you to see the likeness between the actual people, but many people have said that it really looks like their real-life counterparts and I was amazed at the positive responses! This is a last farewell to my Year 9 form and I did a photocopy for everyone, too.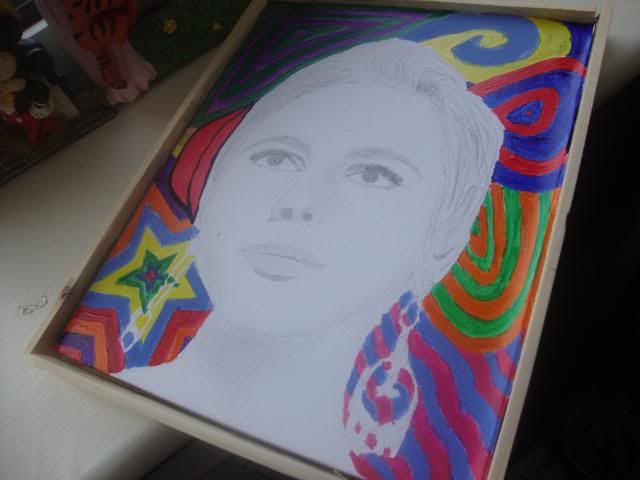 Edie Sedgwick. Originally meant to be a clock in Tech, but decided against it. Painting took forever as I'm not so great with a paint brush!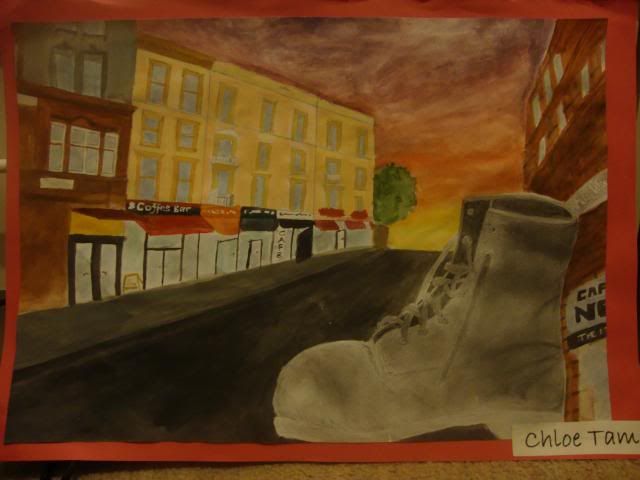 Very, very, very old piece which was up on the walls in the Art corridor. Supposed to be a little surrealist depicting a large Doc Martens boot (pencil) in the middle of an eerie, quaint London street with a sun set in the background!

Me in a Burberry shirt from my father and leggings - simple outfit for Art Day.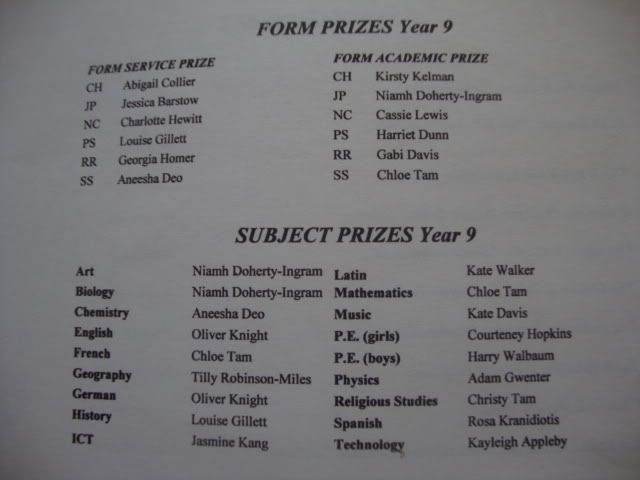 My name in the Speech Day programme!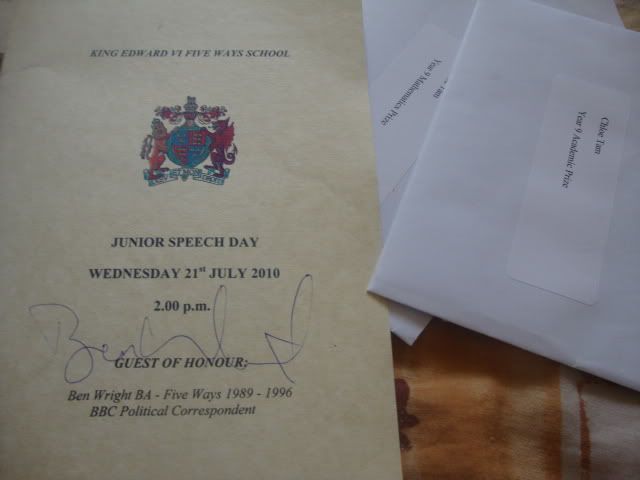 Autograph from Ben Wright, former pupil and BBC Political Correspondent!

I have just been eating some Ben & Jerry's Cookie Dough ice cream and watching An Education. Seriously, that film is amazing and Carey Mulligan is beautiful. She's such a wonderful actress, I understand why she is so fully deserving of her BAFTA for her lead role. Therefore, the title of this post is a line from Carey Mulligan (as Jenny Millar) talking to her teacher after missing out on her chance to go to Oxford University. I don't particularly want to give any more spoilers, just go watch it!

Anyway, now I'm just thinking of which books to buy. I already know that I want to buy

On The Road

by

Jack Kerouac

and

Running With Scissors

by

Augusten Burroughs

. I have a longer list, but I'm not sure about some of them. Any recommendations?
Now I'm off to do some drawing with my new-found free time as I printed off a load of pictures earlier today and can't wait to get started! Hope everyone is doing well and I can't believe it's very nearly summer. In 9 days, I'll be off to London for 5 days: mostly for shopping and sight-seeing, but also decorating my aunty's new flat, baking cakes, playing scrabble. The usual. I get back on August 4th and then I go to America on August 7th, which doesn't leave me much time to pack!

Hope everyone's summers are going great! Happy blogging!
Chloe xxx