Bonjour, mes amis belles! I haven't blogged for about a week, but only because school started on Monday and you wouldn't believe how stressful the first day back was. More exams and revision and stuff which is endlessly boring and so seemingly sparse (whoops) that it really isn't worth mentioning for much longer. The weather has reverted back to its original, atypically-British state in all it's gloomy glory! Anyway, here is a long post since I will most likely not be posting for a little while, due to the aforementioned exams (Maths and Latin internal, then ICT GCSE and Chemistry, Physics and Biology modules) for the next few weeks. I know I said I wouldn't mention it, but I felt like doing so anyway! Anything other than actually doing it, anyway.
So here are just some photos of an outfit, showcasing my favourite blazer: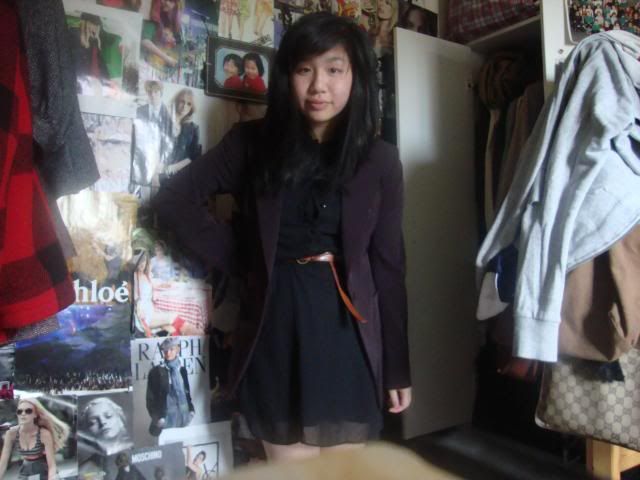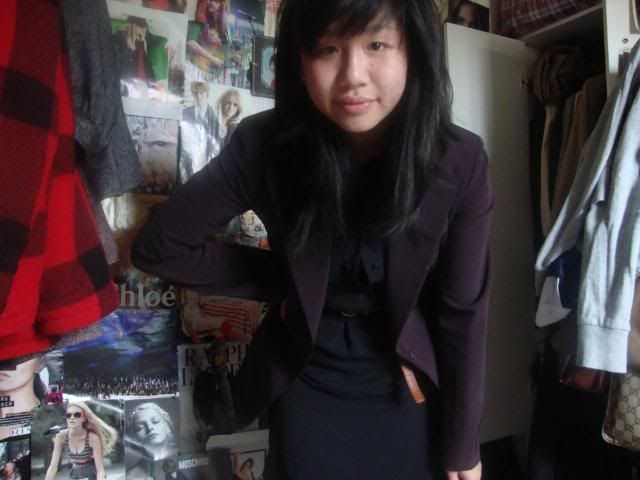 Burberry blazer from mother (from Bicester for £37!) and sheer dress from Debenhams (for £5!)
Apologies for the terrible quality, I used natural light which is sort of in short supply at the moment due to the rubbish weather!
Also as promised is my blog award and tags, from the lovely Jasmine over at
:: Lavender's Green ::
. I urge you all to have a look-see on her blog, I guarantee that you'll like what you see. And if I could, I would give this blog award/tag right back to her!
1.
Who is your style icon?
In real life, my mother in her old days when she used to be impeccably dressed in lovely blazers, trousers and her designer bags! I've been very lucky in that I have inherited quite a number of gems from her and to me, she is incredibly stylish in that she knows what looks good and what doesn't. In terms of celebrities and renowned fashionistas, I really love Diane Kruger, Emma Watson and Rachel Bilson's style, as well as the lovable Alexa Chung. They all seem to have a sort of whimsical charm about them. Mary Kate and Ashley Olsen have their own look which I love. As for Mischa Barton, Sienna Miller, Kate Moss, Carey Mulligan, Chloe Sevigny and Leighton Meester: well, it goes without saying! The answer is that I have lots and lots and lots of style icons.


2. Which is your favourite socialite book?
I have no idea what a socialite book is?! Sorry!

3. Favourite party theme?
I quite like celebrity ones, I once went to one dressed as Amy Winehouse, which was fairly humorous, to say the very least!
4. Go to Halloween costume?
I've never celebrated Halloween before!


5. Extravagance you cannot live without?
Maybe my laptop or something, I'm not quite sure. I don't have too many extravagances of my own though, so maybe I can't answer this question too well!


6. Living person you admire.
My mother, probably. She is the most kind-natured human and even when she's getting on my nerves (which all parents undoubtedly do), I always remember that she is a great person. She's smart and funny and makes me smile a lot. Her approval and judgment means a lot to me.


7. Greatest fear(s).
The fear of failure, in just about everything. Failure to be happy, failure to reach my dreams and aspirations, failure to be good enough, failure to ever meet someone. A lot of things!


8. Traits you deplore in yourself.
I hate my hesitance and sometimes, my shy introversy. I wish I was fearless.


9. Which talent would you most love to have?
I would love to be able to play an instrument really well, or have an naturally great singing voice. Or be able to write great books, which have profound meanings and all the rest of it. Just something which would separate me from the norm.
10. Greatest Achievement?
My greatest achievement is probably winning the Academic Award and Latin Award last year, kinda sad and a little pathetic? Maybe just going through everything that I have experienced and finally getting to where I currently am.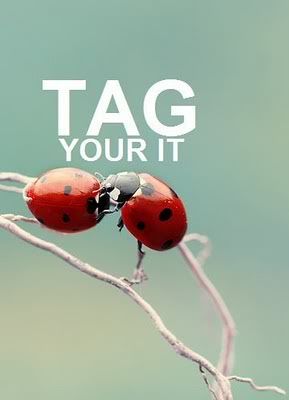 I was also tagged by Jasmine
to answer eight questions she has thought of. It is then my turn to think of eight questions and pass them on. Thanks again, Jasmine!
1. If you could have any super power, what would you choose and why?
It's probably the most atypical and generic super power, but I would love to be able to fly. Maybe it's because I dislike walking a great deal and it would just be a lot easier. But being able to grant wishes and read minds come a close second and third, respectively.
2. Would you rather forget all the memories you have, or never be able to make any more?
This is such a good question! I think that I would probably want to forget all of my memories. Whilst I do have some of the best memories ever, I think that this would make me more determined to make even better memories. I am a naturally sentimental person and memories mean a lot to me, but I would definitely prefer to be able to make more. There's no point to anything if you can't look back and feel happy or sad or any emotion at all.
3. If we learn from our mistakes, why are we so afraid to make them?
Perhaps the fear of not being good enough or being shunned for these said mistakes? There is some sort of reliability from doing things right and to make mistakes is kind of tipping the balance a little, I suppose. I am certainly one of those people who absolutely hates making mistakes and it's kind of embarrassing for me. Being able to get things right is a good feeling, I guess.
4. What is your favourite comfort food?
Everything! The most important variable is dependent on what food we have in. The ultimate comfort food has to be vanilla ice cream with golden syrup over it. Or just general junk food like KFC or something.
5. Tea or coffee?
Probably tea, since that's what I tend to drink the most at home. When I go out to a restaurant or a cafe, I tend to have a coffee or latte.
6. Where is your favourite place to visit?
Holiday-wise, my favourite places that I have visited are most definitely America, Japan and Italy.
7. What is your favourite store and what is your favourite item in that store?
It depends, for clothing stores, I love Selfridges because I simply love everything in there. But on an entirely different level, I love Waterstone's and there's one store in particular: Banker's Hall on New Street in Birmingham. It is one of the most beautiful buildings and of course, all the books are my favourite. There's one section in particular where I could spend all my time in.
8. What is your favourite item of clothing?
Out of all the clothing items that I own, perhaps my Malene Birger blouse which I got for my birthday from Selfridges for a very barginous £26! But if it wasn't just clothing, but accessories as well, it would have to be my Louis Vuitton bag which my mother gave me.
My questions for you are:
1. How would you describe yourself in five words?
2. What are your biggest aspirations?
3. Brains or brawn? ;)
4. Who is your greatest role model?
5. What are you most afraid of?
6. Where is your favourite place in the world?
7. Who frequently appears on your music playlists?
8. What is your favourite food?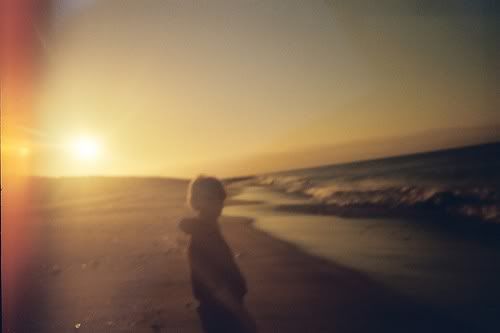 And that's it for a few weeks, I reckon. I may just break this promise and go back to blogging instead of revising, but who knows. Funnily enough, in English, our new coursework will be based on media and we've been discussing blog writing compared to broadsheets and newspapers, it was quite interesting as I thought of all my fellow bloggers in the vast world that is The Blogosphere. On another note, I've reached 80 followers which is so lovely since I remember when I had about 14 and went crazy about it, so thank you! Until next time... Happy blogging!
Chloe xxx
P.S. The blog title is High Fidelity, a novel by Nick Hornby, which I really loved. Lots of witty mannerisms, some depressing stuff, some funny stuff, some romantic gushy stuff and a whole load of fantastic music references in there, including the amazing Otis Redding. And just for that last reason alone, you should definitely go read it!