Hello, bloggers! As stated in my previous post, here is my review on the film, (500) Days of Summer. First of all, I have to say that I completely adored it from the very moment that I watched it in September last year. Writing this review has even given me the excuse to buy it on DVD.
…Hey, it's still for educational purposes! Even if I do have to watch it five times back-to-back, it's purely for "analysis" and if I just so happen to enjoy it, you most definitely won't hear me complaining!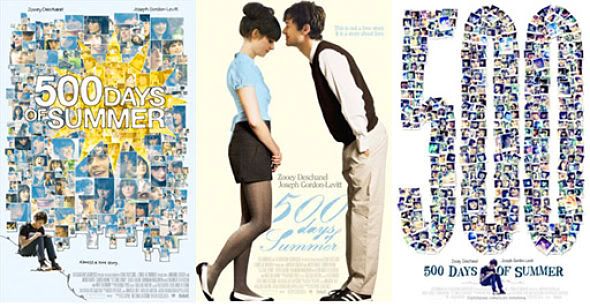 Firstly, this film is incredibly heartfelt and honestly one of the best films I've seen in a long time. The fact that the film begins with the line:

'This is a story of boy meets girl. But you should know up front, this is not a love story'

just makes me fall in love with it even more.
I remember Joseph Gordon-Levitt being very similar in the film,

10 Things I Hate About You

, where he plays the cute social outcast, to how he is in

500 Days

.
The male lead is fantastic in his depiction as this creative, yet pathetically romantic man called Tom Hansen, who is completely and utterly in love with Summer Finn. She's played by Zooey Deschanel,
who has appeared as a cynical indie chick in just about every film of hers that I've seen (Failure To Launch, Elf, Crash, Yes Man, etc.). So if you've seen her in one of these roles, imagine that multiplied by ten billion. She
is just the epitome of cool. Seriously, she scores off the chart of cool-ness.
Back to the actual review... The film is basically a rom-com with a twist. Everything that we girls dream about – well, I know I do – seems to occur in this film: a besotted boy who takes you on dates to IKEA and actually likes the same music that you do, i.e. The Smiths?! It seems too good to be true and thankfully, it is. Summer turns away from the love that Tom bombards her with, leaving poor Tom sporting a broken heart and a hangover. But even though I love Tom's character, I don't see Summer as the bad guy in the equation (and this isn't just because of Zooey), but because I understood where she was coming from.
When you know that you love someone, you just know. Summer didn't and that was the problem. No questions asked.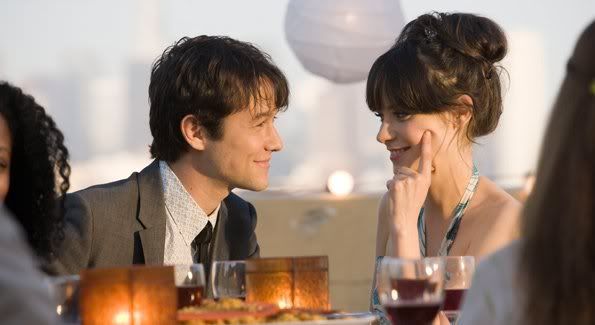 Even though I haven't been in anywhere near the same situation as Tom and Summer, I found 500 Days really easy to relate to. Most parts were profoundly funny; Tom's dance number almost had me in hysterics. Every time I thought that something was going to happen, I was instantly surprised by a sudden turn of events. Rachel, Tom's sister, was wise beyond her years and consoled him as if he were the younger sibling, not the other way around. Tom's friends were also fantastic in their roles as they brought so much humour to the depressing time that is heartbreak.
500 Days has already been hailed by Nick Hornby as 'the most true-to-life romantic comedy of the past 20 years'. Nick Hornby is one of my favourite writers and I have already written about High Fidelity in a recent post (see
here
), so I invariably loved 500 Days of Summer too.
For me though, so many highlights of the film were related to music. This film is basically an analogy for a great song. For example, I loved it when Tom was wearing an array of Joy Division t-shirts (I'm also hoping to acquire one myself very soon). There was also the shot of matching Morrissey covers in both Tom and Summer's childhood rooms. There were Joseph's and Zooey's renditions of both Nancy Sinatra's Sugar Town and The Pixie's Here Comes Your Man, respectively, which I found to be particularly endearing. Or the fact that I recognised Belle & Sebastian amongst the many quotable lines:
'

Colour

my

life

with

the

chaos

of

trouble

.'
It was all of these little things that made me smile and it's always a good feeling to recognise something from a film – I felt very wise by the end!
The soundtrack was also, I imagine, the musical equivalent to the invention of the wheel. Some of my favourite artists were featured in the film, including: Regina Spektor, The Smiths, Simon & Garfunkel and The Pixies.
I have to say that during the end credits of the film, I completely disagreed with the opening line:

'This is a story of boy meets girl. But you should know up front, this is not a love story'

. I personally thought that it was, most definitely, a love story. Perhaps it wasn't the most conventional of romantic-comedies, with its dry humour, splashes of satire and unpredictability. I was constantly waiting in anticipation to see what would happen next, but became distracted by my incessant laughing, due to the numerous wise cracks that appeared throughout. I loved that it was different and didn't conform to the stereotype of a summer feel-good film, even though I ended up feeling amazingly optimistic. Which is quite a feat for a pessimistic person like myself. I loved it.
On a parting note, for those of you who haven't yet been graced by the cinematic, dramatic and musical prowess which is so evidently present in said film, I urge you all to go buy the DVD. I really don't want to have to shun any of my blog-readers, because I love you all very much, but seriously, don't make me come back there..
Feel like challenging me? Don't.
This is a definite must-see! Go, go, go!
Here are some links to find out more about 500 Days of Summer:
Official Website, Amazon, IMDB, Youtube Trailer, Wikipedia
Chloe xxx
P.S. I really did enjoy writing this review. Perhaps it might be an idea to turn this into a permanent feature of my blog. I'd really love to hear your thoughts on whether you'd like to see more reviews on all sorts of books, films, music, anything at all.
(All photos were found via
Google Images
and are copyrighted to (500) Days of Summer.)