So... You know what I said about Autumn being just round the corner in my last post? Turns out that I got Autumn confused with

Summer

! This past week has been probably the hottest week in the history of all Septembers in England. This is no word of a lie, it's been almost 30 degrees most days, which has been horrible when I've been stuck in my black school blazer, in stuffy classrooms - I am definitely not used to the climate. However, the plus side is that the skies have been gloriously blue, my favourite shade of blue. Thankfully, the weather seems to be reverting back to its usual self and I can feel myself relaxing as the temperatures decrease.

School is still overwhelming and still picking up the pace in terms of workload and revision for tests. I won't bore you with the details, but I am slowly getting worried about the masses of exams next Summer, eeek!

Despite all this, I have some brilliant news... I managed to get tickets to see Laura Marling at a matinee performance at Birmingham Cathedral in October, as part of her 'When The Bell Tolls' tour! I was so gutted when I didn't manage to get tickets to her proper tour, but when I heard about a matinee performance in the daytime, I just had to get tickets and luckily, I did! The tickets sold out so quickly, I just can't wait to see the wonderful Laura Marling in the flesh :-)




Last but not least, I have had very little time to do many drawings or anything inside my Moleskine sketchbook, which is a shame. Here are just a couple of things in there at the moment: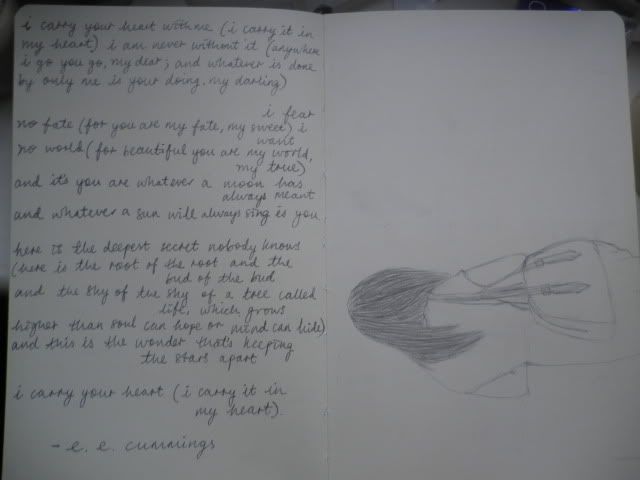 'i carry your heart' by e.e.cummings
Despite his complete lack of correct punctuation or capital letters, I love e.e.cummings and I especially love this poem.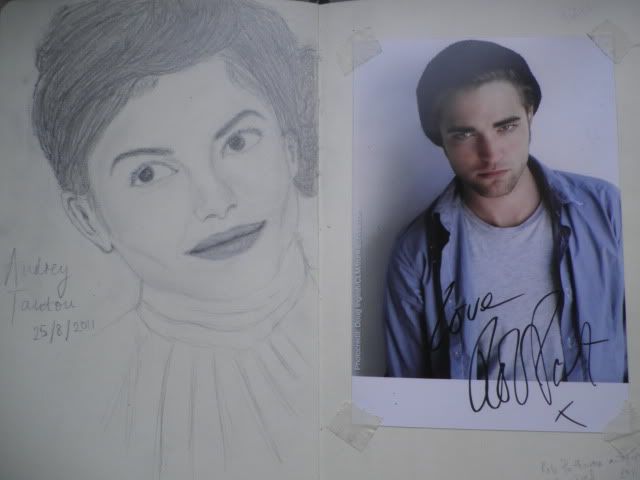 Not my best drawing, but Audrey Tautou is just beautiful and she was featured in the August edition of my Marie Claire, so yeah! Also, the other thing is obviously my autograph from Rob Pattinson. :-)

I've got a few other things to show you from my Moleskine, but I'll leave that until next time. I hope you're all well, wherever you may be. Happy blogging!

Chloe xxx