Top - Topshop sale, £12
Skirt - Portobello Market, £5
Shoes - My sister's, Office sale, £20
Bag - My sister's, Urban Outfitters present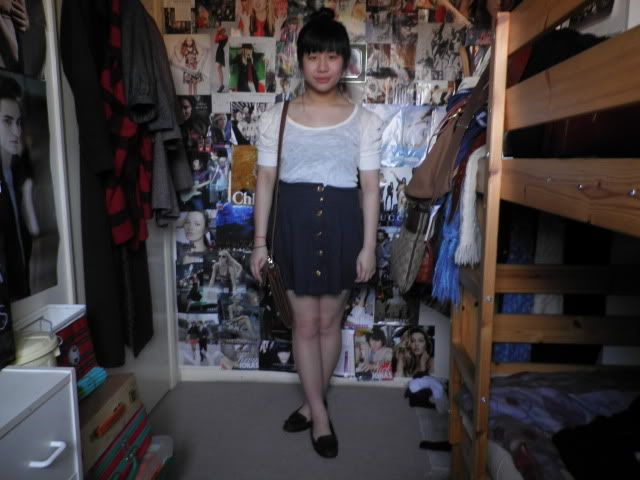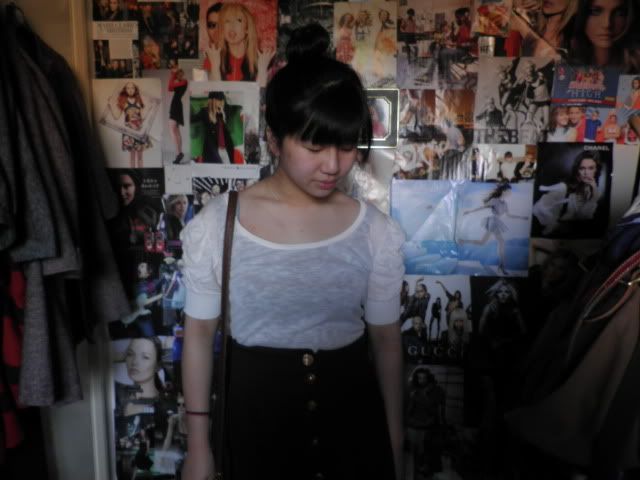 I'm absolutely loving the weather that we've been experiencing lately. It's so nice and sunny, something extremely hard to come by here in England. Even though I don't relish the idea of losing an hour of sleep at the weekend, I can't wait for longer days and shorter nights! Anyway, life has gotten so stressful lately and I guess it's just because of deadlines and coursework and exams in May! Other than that though, I'm quite happy and content. Once I get my mountain of work out of the way, I'm sure I'll be up to enjoying the weather a bit more and actually venturing outside, haha :-)
Going to see Chalet Girl on Saturday and out for a meal as it's one of my best friend's birthday and then we're all having a sleepover. Already planning to do lots over the Easter holidays too. Then I have loads of revision to do before my exams in May and June. Also, forgot to say that I'm going to see Taking Back Sunday and Mayday Parade in May - I am so incredibly excited, it's unreal :-) I hope you're all having a fantastic week, happy blogging!
Chloe xxx
P.S. Remember my
Marc by Marc Jacobs dress
? Adrianna from 90210 was wearing it in the latest episode (when she's being interviewed on the TV show about stealing Javier's songs!)
P.P.S. The title of this post is The Recluse by the band, Cursive, who are great great great. Give them a listen!