Hello to my 42 followers! I'm grateful for every single one of you, it's so nice and I never thought that I would get past 10 followers, let alone 40!
So, my week's flown by! The week started off pretty well and then on Tuesday, as I mentioned in the previous post, it was Pupil Focus Day, so I basically got a day off and I did nothing, which was good. Then the other days were fairly uneventful, though I'm really getting into my school's Amnesty International group - it's such a rewarding group to be a part of.
Then I got chosen as part of a group of ten students for this Science event at the Thinktank at Millennium Point in Birmingham. I got up early on Friday and ventured out to town on the train, bought an iced latte from Starbucks, then arrived late for the 8.45 am start - oops. Nothing can come between me and my caffeine though :-) Then the day was quite interesting, we looked at forensics and preserved our own DNA. Then my friends Abi, Matt and I went off to town for a little while, which was fun. Then I went off to get the train back home, I missed one so then I went to get a Costa latte and then I got the train back. It was an interesting day though and a great way to end the week.
Now I've got some coursework stuff to do and also, here's a sort of outfit post: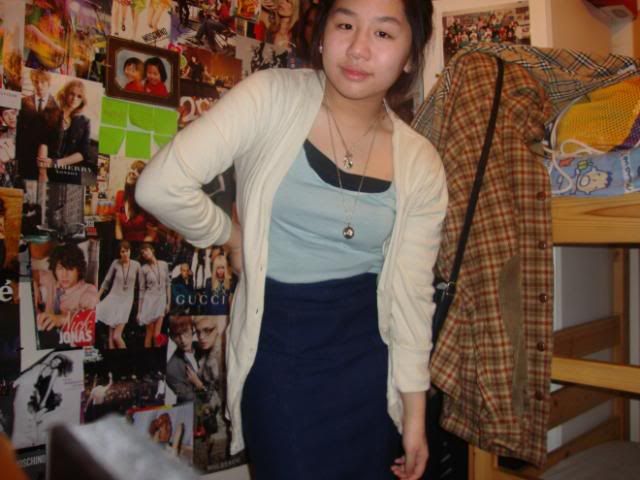 Denim pencil skirt - Urban Outfitters (£10); Black vest - Random; Blueish top - Gap (Hand-me-down); Cream cardigan - Betty Jackson (Sale, from my mum); Necklaces - Accessorize
Also, I've got a craving for some more books, but my Waterstones gift card balance is teetering towards dangerously low, with just £8.02 left. Might have to wait a while, if I'm gonna save up for stuff in America. Maybe books will be cheaper over there?
Books to read:
On The Road -

Jack Kerouac
Naked Lunch -

William S. Burroughs


Running With Scissors

- Augusten Burroughs


Thirteen Reasons Why -

Jay Asher


Choke -

Chuck Palahniuk


Lost At Sea -

Bryan Lee O'Malley
There are some others, but I forgot! I have another list somewhere...

Also, I got a new magazine yesterday, April 2010's issue of Marie Claire. The free gift is this nice cream thing and the articles are good; I much prefer them to Vogue, whilst Elle is my favourite. Some of the articles included: Diane Kruger (she was on the cover) and I love her, one on the late, great Isabella Blow. There were some other good ones too :)
And fiiinally, check out a girl in year eleven at my school called Beth, her blog is Wide Eyed & Wonderful. She has amazing fashion sense, a wicked sense of style and humour and stuff, and she is also in love with all things to do with moustaches. (Doesn't this sound like a dating advertisement or something, ha?) Anyway, check out her blog as she's just started!

That's it really. I've got some nice pictures saved which I'll post in my next blog post, as this one is kind of bogged down with loads of stuff, haha. Anyway, have a great rest of the weekend and the rest of the week. I've got no school on Friday cause of a teacher training day and I'm going shopping for a present for my friend and then a sleepover! Looking forward to that. Happy blogging!

Chloe