Hello all! I'm trying to keep to my resolution to blog more.. seriously. Who knows how well this will keep up but at least I'm trying! Thanks for all the lovely comments on the previous posts, all of the positive compliments are so wonderful to read.
My birthday is looming... only three days away now! I'm gonna be fourteen; not a very big number, I know, but still. I'm actually quite excited for it now!
Anyway, back to the title of this blog post, I went shopping with my mum and my sister today. It was such a lovely day, without any snow on the grounds and a lovely blue sky; it wasn't too cold either, at about 5-6 degrees in the afternoon.
So, there were a few sales still going on and we ventured into Selfridges and we were immediately drawn to the designer sale stand.. I was baffled by an amazing Diane von Furstenberg dress, which I tried on but it looked better on the hanger, unfortunately. I also tried on a D&G dress and a D&G cardigan, but the same principle applied that they looked better on the hanger. However, THEN I tried on this amazing Malene Birger blouse and I fell in love with it!
It's 100% silk and is so delicate, with puffy sleeves and cuffs, amazing spherical black buttons, a beyond-beautiful collar and a ribbon-y thing which can be tied into a bow, to finish off!
But the really amazing thing was the price: it was originally £150, down to £37, but because there were some slight imperfections, the sales assistant knocked off £10 so I got it for £27! I'm so happy with it. I'm gonna wear it on my birthday, with some jeans and nice shoes. It's so classy and elegant, here are some pictures of it: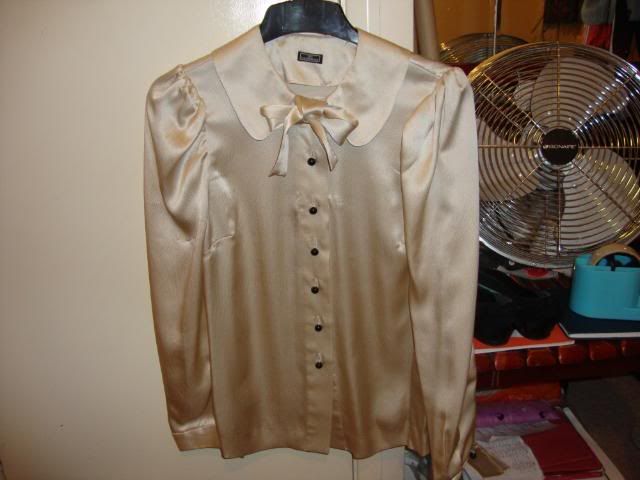 The link to the actual blouse is on the mywardrobe website here!
Anyway, on to less exciting buys, I also got a brown jumper in the sale from Zara, for £7, I have the same one in black but I just really like the colour, which is a nice change from the dreary weather lately. I swear, the weather is ALL I talk about; but hey, that's part of being British. I also got a nice necklace too, which I think will look really nice with the Malene Birger blouse! Here are pictures of the jumper, the necklace and also another necklace which I got a few weeks ago in Accessorize in London, for £5: