Top - H&M (£3 in sale)
Blazer - Marc by Marc Jacobs (Gift)
Jeans - Gap (£35)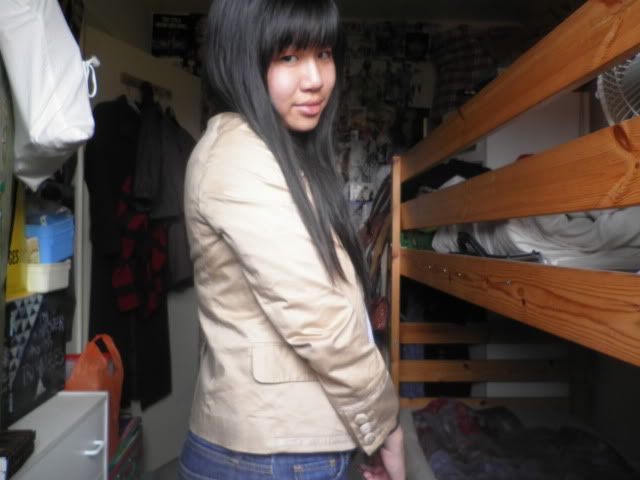 Bonjour! Got this month's Elle and whilst I rarely ever buy magazines anymore, only the occasional Elle or Grazia, this one was great cause it came with this really cute Reiss top. There's something really nice about spending the morning / early-afternoon reading a magazine or texting, drinking a cup of tea and eating toast. However, I've also been really busy doing school work and then I trimmed my fringe and cut my sister's hair too. There's also something so nice about wearing a pair of jeans and a lovely blazer. I love wearing this Marc Jacobs one, the colour is timeless, the cut and fit is great too. I love classic pieces which will last me a lifetime.
I've had a tutoring job for about 8 weeks or so now and I've saved up £120, which will hopefully go towards a new camera. I'm in two minds as to save up for a Nikon P500, a bridge camera which is about £340 or whether to save up for a bit longer and maybe save up for a Nikon D3100 DSLR which is about £400. A DSLR would be great, but I'm not sure if it'd be too cumbersome, or whether I'd be too scared to use it due to its value and also, I'm a complete novice when it comes to anything more advanced than a simple point-and-shoot. However, I reckon it's cheaper to just buy one and learn, rather than buying something smaller to start with and then spending more money on an upgrade. I'm completely in two minds! Any advice would be appreciated! :-)
As for other things to save up for, I'm absolutely in love with the Pashley's Sovereign bike. I'm just such a sucker for a wicker basket and if I had a spare £645, I would buy it right now. Unfortunately, I don't! So I'll just have to wait until I'm successful and wealthy and all the rest! :-)
I also would like to find a cheap, but fully-functioning record player. If anyone knows where to get good refurbs (aside from the usuals like eBay, etc.), please let me know!
Last but not least, I already mentioned this in my last post, I really want to go and buy a moleskine notebook so next time I go shopping, I may just pop into Waterstone's and buy one. :-) Can't wait to get some sketches and drawings down.
Anyway, enough lusting over pricey objects which I really can't afford! Hope the rest of you are enjoying your weekends, wherever you may be. Happy blogging! :-)
Chloe xxx
P.S. I really want to go to the British seaside this summer, as I've never been before. Also, love the song by The Kooks. :-)