Hey everyone! I'm currently freezing my fingers off as I type this to you under the covers of my bed. Just catching up with my weekly doses of my favourite blogs and drinking some tea. It snowed today and whilst most people are getting very excited about it, I'm just cold. This week went really quickly at school though, mostly because I was dreading it so much! Not much happening in terms of life and such, but with the completion of many essays, projects and homeworks, I have actually had quite a bit of free time this week.
So I'm feeling quite a bit more cultured after lots of reading, films and the like.
I read
Paper Towns
by
John Green
- an absolutely amazing novel. It was recommended to me by two friends and it is honestly a fantastic story with profound meanings. Just everything that you want, really. I recommend it to every one of you!
It's not pictured, but I also read
Looking For Alaska
by John Green, another great novel.
Bought Elle a few weeks ago, Alexa Chung on the cover, of course.
Watched two really good films:
Entre Les Murs
or
The Class
, about a French teacher in inner-city Paris. I really love foreign films and subtitles, I thought that the message was strong in this, so yeah, I found that it was really good.
Also,
Capitalism: A Love Story
, a documentary by
Michael Moore
. I've seen another Moore documentary called Sicko before. He instills a lot of humour into serious issues and I really liked this one too.
And last but not least, the Times newspaper with a Harry Potter special. Which links nicely with my trip to the cinemas with some friends to see The Deathly Hallows on Friday 19th. Had so much fun and I cried when Dobby died!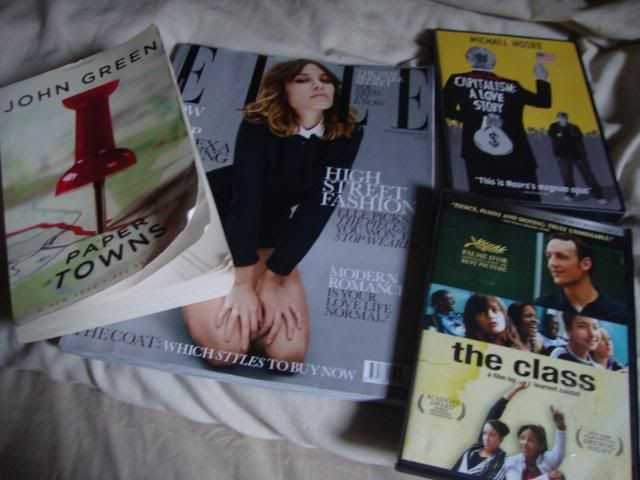 Also pictured above is my successful fishtail plait! After a couple of days of useless attempts, I finally managed it. I can do them a lot better now as practice really does make perfect. :-)
I'm gonna go warm my hands up with the hairdryer now and maybe peruse the Zara website. This year, I haven't quite got the Scrooge outlook on Christmas like I did last year. Despite the cold weather, I have to remember that I only have three weeks of school left. Which isn't quite so bad, is it?! Hope everyone's having a lovely weekend! Happy blogging!
Chloe xxx