Is it really 2nd January 2014 already?! Where did 2013 go?! I know that once I go back to school, it'll take quite some time getting used to writing "2014" on the top line of my work! 2013 was a pretty crazy year, for lots of different reasons! On the whole though, it was pretty fantastic. I'm gonna try my best to crank out a recap of 2013 post sometime soon! (Hopefully before this month is over - apologies for my erratic & sparse blog posts!)
I've been on my Christmas holidays since 20th December and it has been a pretty relaxed holiday this year. Christmas & New Year were fairly chilled, mostly spent with family which was nice, since I don't really get to see them enough these days. Also, a while back, I did some suitably Christmassy things like ice skating with my friends!!! There is a new outdoor ice rink in Birmingham which we'd wanted to try out, so after some persuasion & coaxing of reluctant friends, we made a trip to the ice rink one Friday after school. Having only been ice skating a few times a few years ago, I was incredibly rusty when I first got onto the rink. However, my childhood days of rollerblading came in handy and I soon managed to make my way round the rink without any assistance! Ice skating is so so so fun and it is one of my absolute favourite pastimes -- but the best thing about it is definitely watching your friends fall all over the place! Alongside that, I also recently celebrated my friend's birthday by taking a trip to the Electric Cinema in Birmingham to watch Mary Poppins! The Electric is a really lovely, old school cinema with the comfiest sofas I've ever sat on!!! It was a really lovely day out & then we all went back to my friend's house for some more celebrating. It's so so so crazy to think that I've known my friend, Gabi, for six and a half years now -- I still remember going to her 12th birthday in Year 7, after first meeting each other at the start of secondary school! It's so crazy how time flies & we've now celebrated her 18th birthday! Makes me feel all nostalgic for my 'youth' (haha). (Some would argue I'm still in my youth, but y'know.) :-)
So this holiday has been very, very relaxing. I have spent literally every day sleeping in very late & watching films all day, every day. I'm a sucker for Christmas television, so have been using my lack of January module exams as an excuse to do nothing all day (though I do actually have mocks coming up... But they don't really count, right? Right?) I'm now slightly regretting my laziness since I go back to school on Tuesday and I'm now going to have to cram all my schoolwork into these last few days. But... YOLO? (No, I don't think I can pull that off either!) Also, along with the copious amount of television, I've also been eating myself silly on most days. My mum's insanely generous friend sent us a Christmas Cartwright & Butler hamper from Harrods! So I've appointed myself the very stressful job of 'sampling' all the various foods: waffles, jams, biscuits, cake, etc. On the topic of food, I also baked some rocky road, which I previously made way back in March & shared on the blog here & brought it all into school on the last day! So I would say that this past holiday has definitely been a triumph in the food department - always a sign of time well spent, in my opinion. ;-)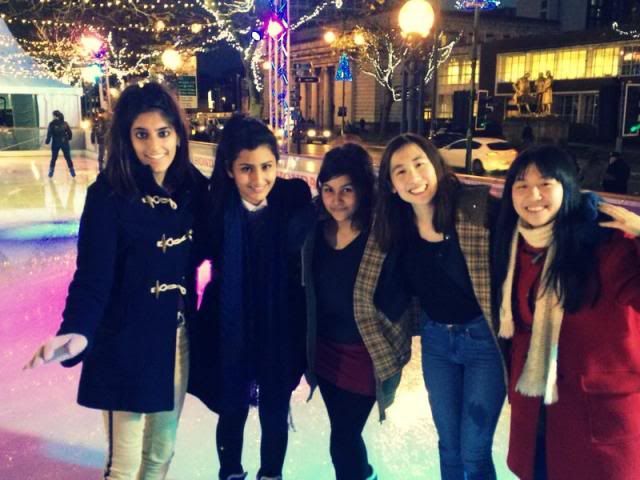 ^^^ Ice skating! ^^^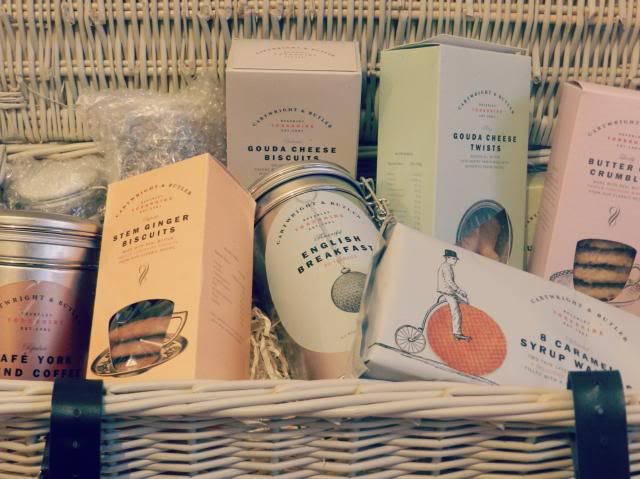 ^^^ Harrod's Christmas hamper ^^^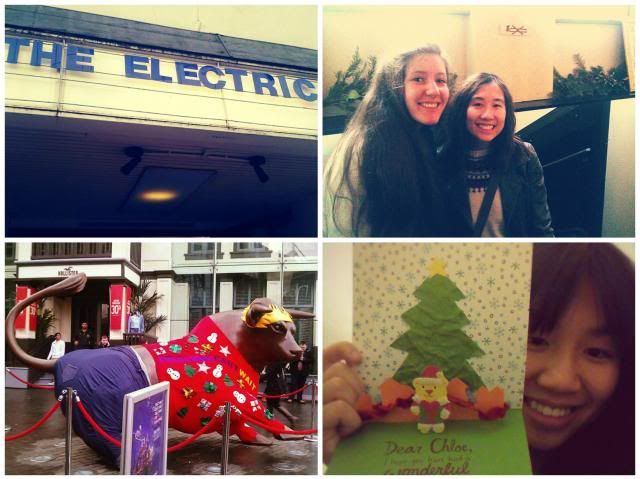 ^^^ 1. The Electric cinema; 2. Friends; 3. Festive bull!; 4. Beautiful handmade Christmas card from my pen pal, Shana ^^^
So those are just a few photos that I couldn't resist sharing! I've got a few more coming up in my next post, where I will hopefully look back on 2013, as well as share some of my New Year resolutions!
Hope you all had a lovely Christmas & New Year!
Chloe. X
P.S. I've been super super super obsessed with The Shins lately. Listen to 'New Slang', it it such a brilliant song. Have been listening to it all holiday. On repeat. All day, every day.