Last Wednesday, my lovely friend Nish invited me to go on a day trip around Oxford! He got his acceptance into Oxford back in January and I'm a prospective student also thinking of applying there so it seemed like the perfect opportunity to go there, firstly to check out the university and the various colleges, but also just to have a day out in a beautiful city.
We took the train early in the morning into Oxford and went straight to St Hugh's College where he has been accepted and walked around the lovely grounds. There is something about the atmosphere in the wonderful city of Oxford that is simply unparalleled. Afterwards, we headed back into the centre of town and walked around a few more of the lovely shops, including Blackwell's Bookshop and underground into the Norrington Room which is the single largest room devoted to book-selling.
Later on in the day, we walked to Oxford Castle where lots of restaurants are situated inside. We went to La Tasca where I had tapas for the first time, courtesy of Nish! It was delicious and such a lovely treat. Afterwards, we walked it off by exploring more of Oxford. We went to Christ Church college (my dream college and where my aunty will be getting married this summer!), the cathedral, the covered market, the Ashmolean museum, the Bodleian library, the Bridge of Sighs and a few more places.
Photo overload here: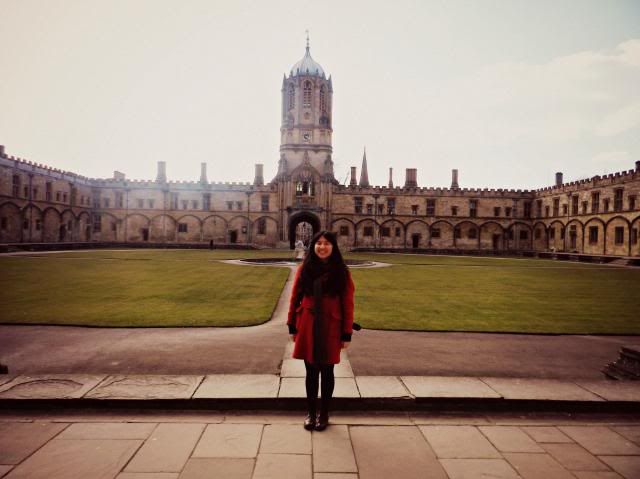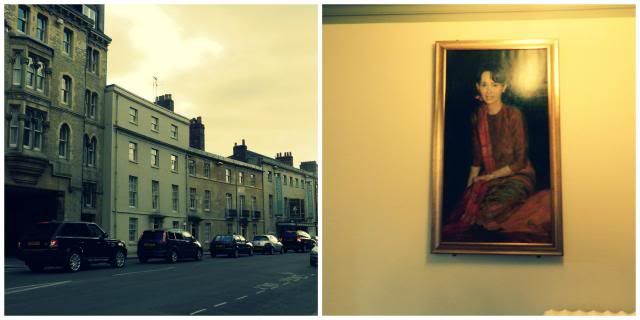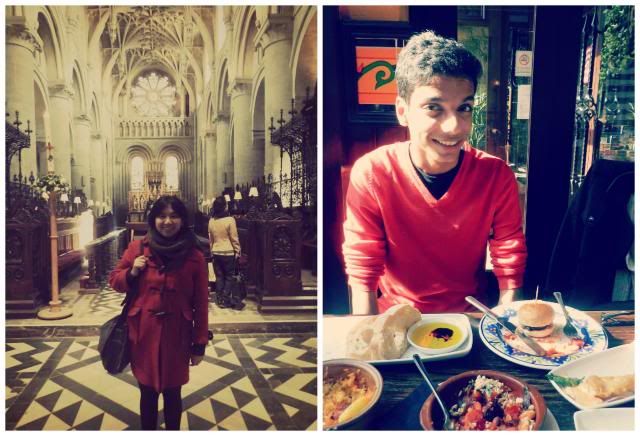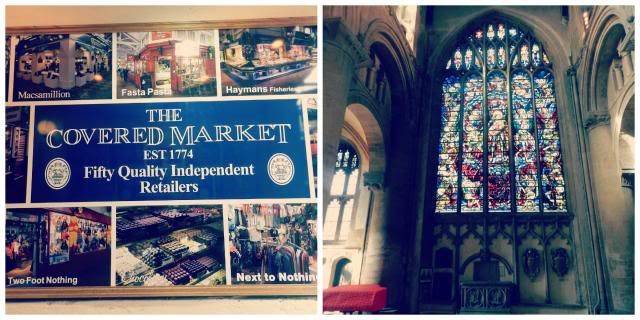 1. Standing in Tom Quad, Christ Church College
2. Standing on staircases @ Christ Church / The Bodleian Library
3. Delicious tapas at La Tasca
4. @ St Hugh's College / The Norrington Room
5. Pretty streets / Portrait of Aung San Suu Kyi!
6. Inside the cathedral / Nish @ La Tasca
7. The covered market / Stain glass windows @ ChCh Cathedral
8. At St Hugh's College / Infamous staircases of Christ Church
That's only half of my photos, so look out for the rest in my next post...! Anyway, as you can see from my big cheesy grin in the photos, I had such a lovely day out and it was just the motivation that I need to really try hard and get to Oxford. I have no doubt that it'll be difficult and stressful, but certainly a worthy challenge to undertake! I definitely can't wait to go back and visit, hopefully this summer when I go on my university open day tour (and my aunty's wedding!) :-)
I've only got a few more days until I'm back at school... I'm really gonna miss being able to sleep in and watch daytime television haha. Study leave starts in 3 weeks and exams start a week after that. A little worrying, but I'm gonna try and stay sane. Blog posts may become a little sparse though, so please bear with me!
Have a great weekend!
Chloe xxx