Hello! Here's an update on what I've been up to in the last month or so:

Here are a few pictures of me and some friends at the Birmingham Christmas Lights Switch On three weeks ago, on Saturday 14th November. If any of you watched the news in the U.K, you'll know that the whole event failed. Epically. The whole thing got cancelled because of the poor planning done by the Birmingham Council who anticipated for 5,000 people to be there but about 30,000 people turned up.. I went last year and it went really well so it was a bit crap that it was cancelled. 60 people were injured too as the barriers went down, it's a shame as I was looking forward to it.
But the day wasn't at a total loss because instead, my friends and I walked to the Bullring in town to sit in Starbucks; I got a nice, hot coffee. We all got some drinks and chatted... Then we went to the German Market which was really nice too. We saw a lot of people from school and I also saw some people from out of school which was really nice. I got some food from German Market and then we went to sit in the nice and warm, in Waterstones.
Then we went back to my friend's house for food... The others made hot chocolates and I made a latte - then we just chilled and sang/screamed/shouted along to songs like Jay-Z - Empire State Of Mind and other 'skanking' songs, haha. It was hilarious and I had a really good time. We then ate even more food... pizza and chippy chips, I was stuffed by the end.
Although it wasn't quite what we'd planned, I had a lovely day on Saturday.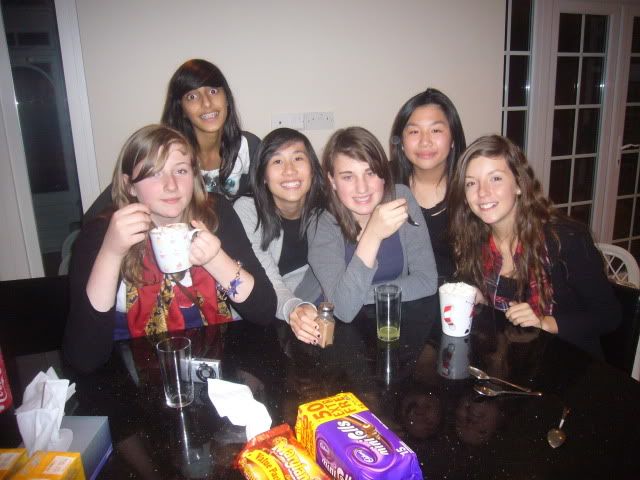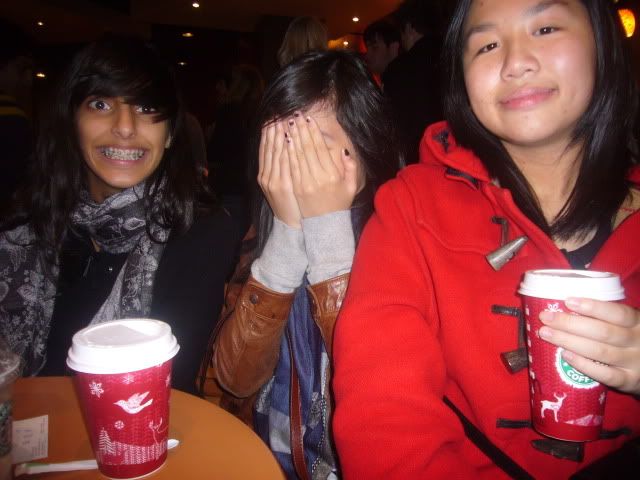 (No outfit post, but I wore a black knit dress from the Topshop sale (£15), a black V-neck jumper from Zara (£9), belt from Moschino (hand-me-down) and my Doc Martens (hand-me-down). Very very black but brightened up by my Burberry red duffel coat (another hand-me-down).)
As many of you may know, New Moon came out on 20th November came out and so, we went to town and chilled out for a while and then went to see the film. The queue and cinema was packed full of 'Twi-hards'! I really did prefer this film to the previous Twilight installation. It was amusing in parts and I was happy with how closely it stuck to the book. The day was also brilliant due to a major pigging out fest in the German Market; bratwurst, garlic bread, fried potatoes, etc! Then, back to our favourite Starbucks in Borders to get a nice drink and sit down. We got a few little Christmas presents too, which triggers the whole Christmas spirit, I guess. Finally, I went to Waterstones to get a book, Man and Boy, by Tony Parsons. I'll try and write a little something about the book in a later post, as I thoroughly enjoyed it. Finally, back home I went to enjoy some sleep with the rest of the weekend ahead of me.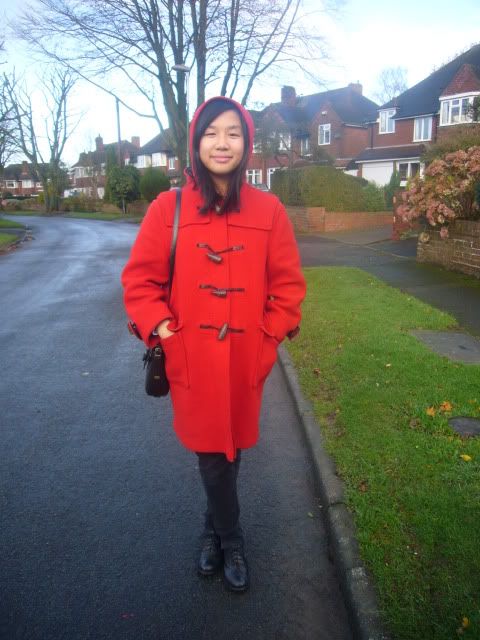 Duffel coat - Burberry (Hand-me-down from my mum, bought at a warehouse for around £40); Shirt - Gap (£30); Top - Gap £5); Jeans - DKNY (Hand-me-down); Brogues - Costume National via eBay (£20)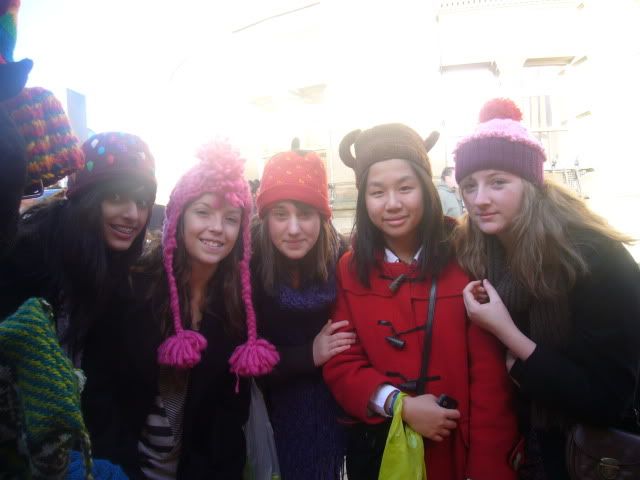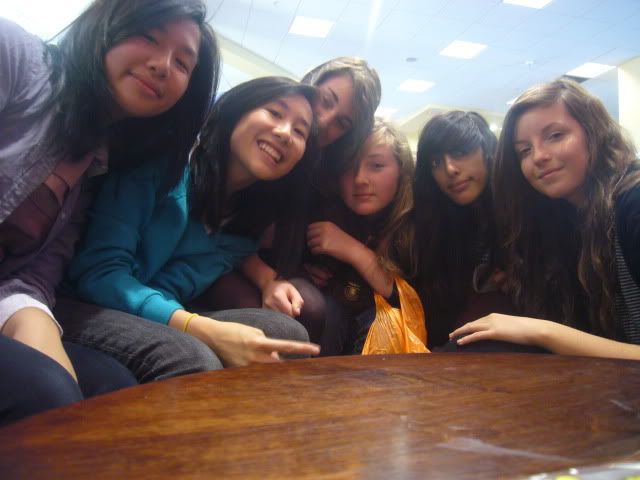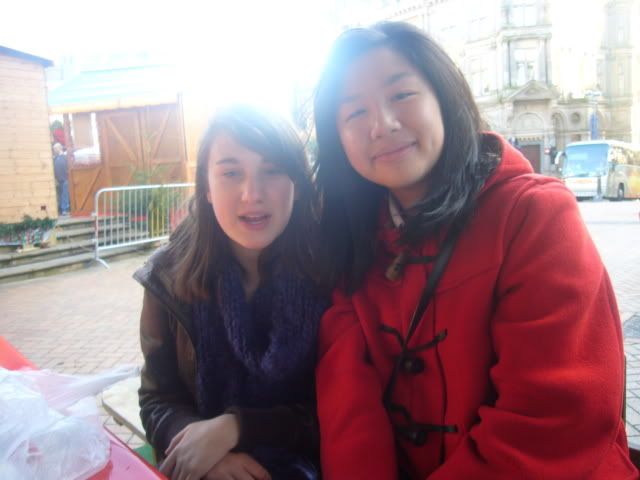 Finally, last week on
27th November
, it was Non-School Uniform day at school. I didn't try very hard due to the insanely cold weather. Therefore, I wore my favourite jeans which I always wear, black DKNY skinnies. I also wore a grey Gap jumper and another hand-me-down - this time an amazing amazing amazing deep purple Burberry blazer, inherited from my mum. She has sooo many great clothes that I love to find in her wardrobe. Unfortunately, I didn't get a chance to get a picture of this outfit, but will have to do so soon! I also wore my Burberry scarf (present) and Burberry red duffel coat (hand-me-down)! Very casual and wrapping up warm was my main priority, but yeah, I went with some friends to town to do some more shopping and yes... you guessed it, STARBUCKS! I swear, the Starbucks in Borders is mine and my friends' second home. We go there all the time and I love it there.
Unfortunately, Borders may be going into administration! If it closes down, we may have to find a new second home... Bad times. However, I've had a good few weeks and these outings to town have kept me sane from all this work at school..
Tonight, I've got a birthday sleepover to go to which will be nice, with some friends. Then, tomorrow I'm going ice skating which will be cool as I love ice skating and roller blading.
The not so much anticipated Italy post will be coming your way soon anyhow, it's in my drafts and it's nearly done... So I'm off to do some work and I hope you've all been well.
Everyone getting into the Christmas spirit? I finally am, now that December's well and truly here. I have to admit, I was being a complete Scrooge figure in November. I've still been reading all of your blogs and I'm loving them all too. Thanks so much to my followers and sorry I'm being so rubbish with posting!
Chloe