So it's the weekend once again... I've been so so so inactive this past week, sorry!
I've had a weekload of tests, hence the lack of blogging! My week has been pretty good actually. I got chosen for Gifted and Talented in Art! I was really happy when my name got called out in class... Also, my sister and a couple of my friends were chosen so that's really good
Friday was really good too, we had Music which is always a doss lesson (my group's composition was easily the worst one out of the whole form). Then we had art and just worked on our shoes in mixed media (pencil crayon, wax crayon and watercolour). Then I had Latin, I.T., French and Maths. Because we're ahead of the curriculum in Maths, my teacher let us have a Maths quiz, we were in teams of 6 - I was with Neesh, Matt, Tom, Bal and Ryan and we won! We all won a chocolate bar each haha, great end to a good week. :D
It was also my two good friends' birthday, Abi and Conrad, on Friday so that was good as well. :-)
Today, I've got Abi's sleepover today, which should be good. We're gonna have some old school party games like pass the parcel, haha. Also, I'm gonna be going to Rome in like just over 5 days and I'm SO psyched! It's gonna be so much fun. Final meeting on Tuesday lunch and hopefully we're getting our hoodies too :-)
Also, I was up til 2 trying to do my art homework (finish exploring mixed media).. Here are some pictures of my work:
Pencil
Watercolour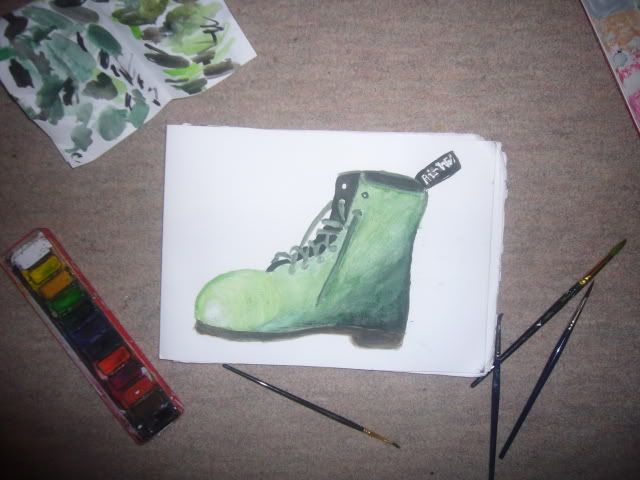 I like painting :)
Can you tell that I REALLY REALLY REALLY hate using wax crayons?!
Would love some feedback on these pieces, thank you!
So I'm gonna start doing songs for my blog posts to mix it up a little. The song for this one is also the title. It is 'Sleepyhead' by a really wicked electronica/techno-ey band called Passion Pit. They're really amazing so I advise you all that if you don't know who they are, to Google them now!
Chloe